Over the past two decades, Pollin has developed a special interest in working in the more difficult areas of human development. While she is available to assist most cases (simple or challenging), she believes that once an individual regains a natural state of wellness and balance within their 'Selfness', the triggers surrounding their problems will dissipate easily.
Therefore,most people who are referred to work with Pollin, have gone through many hardships and endured years of searching for answers. Many have arrived at a point of desperation and despair because they have gone through almost every possible test, examination, therapy or intervention that one could possibly think of.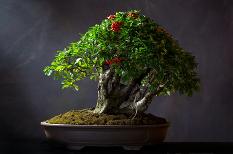 Like a tree, for us to grow strong, we need to be in a state of wellness and balance.
Pollin may not offer you a magic pill however she can give you closest to the next best thing. She knows that you already have the answers you have been looking for inside of you, so her main role is to help you access that information so that you can regain the power you need to get back on your feet. She believes in your ability to return to a balanced state of being no matter what may have happened to you in your past.
Most are referred to her either by other practitioners or past clients when these individuals are recognised to be ready to embark on a
true journey of transformation
.
We hope you find the following information helpful while taking into consideration that each and every person is unique. So, it is fair to keep in mind that the information provided in the specific specialty areas are generalised however the information provided will give a glimpse into the idea that even though the presenting symptoms may lead to a specific diagnosis, the cause and road to recovery is different and unique in each circumstance.

Pollin's focus is to assist each individual towards a state of wellness, either on a mental, emotional, physical or spiritual level. Pollin works with each person in ways that will enable them to raise their consciousness around them. When we can see things as they truly are, then we are able to live freely as ourselves.

Through Understanding, we gain Knowledge.
Through application of knowledge, we develop Wisdom.

When Wisdom guides ou
r Choices,

then we are
Truly Living and Being.
Pollin is available to discuss how she may be able to assist you. So, please contact her below.
NOTE:- Many of the conditions listed overlap, however we have categorised the specialty areas based on the presenting issue or common diagnosis.